About Mezian Motors
For more than 35 years, the European car experts at Mezian Motors have been providing the greater Los Angeles area with top-of-the-line maintenance and repair services, from brake repair to routine auto tune-ups. We're known for our quality work and our affordable prices—in fact, we beat dealer prices by an average of 30%! We offer $25 off any $200 service and $50 off any service of $375 or more.
Independant MINI Cooper Service
If you're the proud owner of a MINI Cooper, there will come a time when you require professional maintenance. If you want to keep your beloved vehicle in great shape, though, you can't take it just anywhere for service—you need a qualified shop. The technicians at Mezian Motors have extensive experience working with MINI Coopers, and we offer a wide array of must-have services that will help you keep your MINI in top condition. Thinking of purchasing a MINI? We recommend having a $150 Pre-purchase inspection done to make sure you're cruising on the road with no surprises.
Our MINI Cooper Services
Vehicle inspections: When you bring your MINI in, we'll start by giving it a general diagnostic and inspection. This includes inspecting the tires, testing the brake performance, testing the seat belts, checking for engine leaks, and looking into any issues you've noticed while driving your MINI.
Engine tune-ups: Our team can provide you with the routine engine maintenance you need for your MINI. This includes checking and charging the battery, inspecting the hoses and belts, checking the fluids, replacing spark plugs and other components, and any other tasks necessary to ensure safe engine operation.
Brakes: We offer comprehensive brake repairs to keep your MINI running safely. We will thoroughly clean your brake system and inspect your brake pads, hoses, and rotors. We can bleed brakes to flush the fluid, check for fluid leaks, and replace the brake fluid outright when necessary. We'll also do a road test to ensure that your brakes are safe to use. We offer 20% off all brake parts, and our affordable brake fluid flushes start at $125.
Oil changes: Regular oil changes are essential if you want to keep your engine running smoothly. When you bring your MINI in for an oil change, our technicians will check for fluid leaks, replace your oil filter, and change out your oil.
Suspension: We can check for any signs of trouble with your MINI's suspension system. We'll test the steering and alignment, inspect the struts and axles, and check to see that your tires are wearing evenly. We offer an exclusive 20% off deal on all suspension work.
MINI Service
MINI's, like BMW, require Inspections I and II. We've broken it down for you with this checklist to inform you on what each inspection consists of.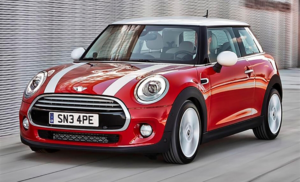 Replace the interior ventilation filter
Replace the transmission fluid (CVT only)
Check washer and wipers and add fluid if necessary
Lubricate doors and locks
Check battery condition
Check suspension
Inspect CV boots and check their condition
Examine exhaust system, check for leaks
Check manual transmission fluid (if manual)
Pressure check cooling system
Reset service interval indicator
Final Test
Technician takes the vehicle out for a short road test
Inspection I
The service indicator system will let you know when the car should go through an inspection. The timeline varies on different factors, like the weather and conditions you drive in, driving habits, and model and year your MINI was manufactured in.
Inspection II
Everything covered in Inspection I are repeated with Inspection II, in addition to:
Air filter replacement
Engine coolant replacement
Brake fluid flush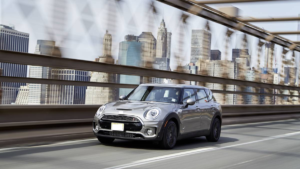 As you go higher up in your miles with your MINI you have some other stuff to consider:
At 60,000 miles for the Cooper S, the serpentine belt should be replaced. For all other models this should be done at 100,000 miles
At 100,000 miles the oxygen sensor should be replaced
At 100,000 miles, spark plugs should be replaced

Business Hours
| | |
| --- | --- |
| WEEK DAYS: | 8:00 AM– 6:00 PM |
| SATURDAY: | 8:00 AM – 6:00 PM |
| SUNDAY: | CLOSED |
| | |