Independent Audi Service
Audis manufactured in 2016 or before have a recommended service scheduled at the first 5,000 miles, and every 10,000 miles after that. In 2017, they changed their scheduled maintenance intervals starting at 10,000, and following through every 10,000 miles after that. Thinking of purchasing an Audi? We recommend having a Pre-purchase inspection done. For just $150 you can make sure you know you're purchasing a good vehicle.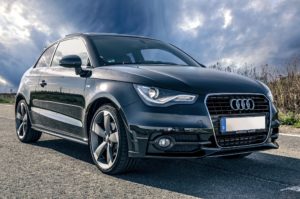 Certified Audi Repairs in Los Angeles, CA
Mezian Motors is a family-owned and -operated business that has been serving drivers throughout the Los Angeles area for 35 years. Part of our longevity is our highly-specialized expertise in service and repairs for European vehicles of all makes and models. Within our list of exceptional services is Audi repairs and service that Los Angeles car owners can count on. We staff ASE-certified technicians to handle issues with your Audi, including brakes, transmission, air conditioning, clutch, and suspension.
Make sure that your European automobile gets the best service possible. Call us today to schedule service and repairs at our Los Angeles location.
Certified Repair Specialists
With ASE-certified technicians performing service and repairs on your Audi, you're ensured that they've acquired the knowledge and training necessary for outstanding results. For regular brake service, we'll
perform the recommended annual inspection and fix and replace your brake pads and rotors every 40,000 miles, or whenever it's deemed necessary. We also have extensive experience handling any and
all brake repairs on your Audi. For transmission maintenance, repairs, and rebuilds, we work on both automatic and standard/manual transmissions. Considering how complex and crucial your vehicle's transmission is, you want technicians with special expertise to ensure perfection with any service.
Your Audi Air Conditioning, Clutch, & Suspension Experts
Your Audi's air conditioning, clutch, and suspension repairs are handled best by experienced technicians. Mezian Motors employs factory-trained and ASE-certified specialists who know the ins and outs of your
Audi repairs. If your AC is blowing hot air or not working at all, our team masterfully examines your vehicle's components, including the condenser, blower motor, cooling fans, and compressor, for any issues. Whether you just need a recharge or the entire system needs replacement, our technicians accurately diagnose and repair the problem. Repairing or replacing your Audi's clutch or suspension can be an expensive endeavor. We make sure you get a fair price, and the results are worth every penny.
First 5,000 Mile Service
Followed by 20,000 mile intervals
Change oil and replace oil filter
Fill completely with fresh AdBlue and adapt learned values for AdBlue tankunder guided fault finding after filling fluid (only applicable to TDI)
Check brake system for leaks, brake pad thickness, brake disc surfaces, andbrake fluid level
Reset Tire Pressure Monitoring System (TPMS) (2010-2013 models)
Check tires and air pressure, including spare. Inspect condition of wear andtread, rotate tires
Check windshield wiper and washer system, add fluid if necessary. Inspectcondition of wiper blades; replace if need be
Reset service reminder
First 15,000 Mile Service
Followed by 20,000 mile intervals
Under The Car
Change oil and replace oil filter
Fill completely with fresh AdBlue and adapt learned values for AdBlue tank under guided fault finding after filling fluid (only applicable to TDI)
Check front and rear axles, dust seals on ball joints and tie rod ends
Check Automatic Transmission and Final Drive for leaks
Check manual transmission and final drive for leaks
Check brake system for damage and leaks, thickness of pads, brake disc surfaces, and brake fluid level
Check drive shaft boots
Check exhaust system condition and secure positioning and mounting. Check for any possibly leaks
Remove water from fuel filter or replace if necessary
Change MTF oil for gearbox on DSG/Tronic (if applicable)
Change Haldex clutch oil (A3, TT)
Check underbody for damage and leaks
Body and interior
Check instrument cluster function and lights
Check air conditioning (AC)
Check steering
Check electrical
Clean and lubricate the guide rails on sunroof system
Lubricate door hinges, straps, and hood/trunk latch
Check interior and exterior lighting (brakes, turns signals, interior lights, etc)
Check function of the horn
Remove cover for plenum panel and check water drain. Clean if necessary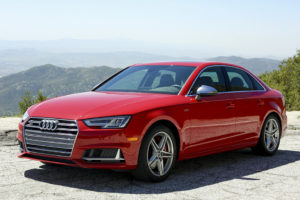 Tires and Wheels
Check all tires for proper tire pressure, including spare
Reset tire pressure monitoring system (TPMS)
Examine tires for wear and tread, realignment if necessary
Under the hood
Scan and read vehicle diagnostic system with a scanner
Clean housing and replace air filter
Check battery and replace if necessary
Check and clean battery terminals for any corrosion, inspect housing. Inspect acid level of battery (if visible)
Check all fluids and levels, including: antifreeze, coolant, brake, clutch, and windshield washer fluid
Replace spark plugs at 35,000 miles or 6 year mark, whichever occurs first(35K, 55K, 75K, etc)
Check and adjust functionality of the windshield wiper and washer system, add fluid if needed, replace wipers if necessary
Check engine compartment for leaks
Replace dust and pollen filter
Clean snow screen for air cleaner
Reset service reminder display
Check ribbed V-belt and tensioner condition and replace if necessary
Final Test
Technician takes the vehicle out for a short road test

Business Hours
| | |
| --- | --- |
| WEEK DAYS: | 8:00 AM– 6:00 PM |
| SATURDAY: | 8:00 AM – 6:00 PM |
| SUNDAY: | CLOSED |
| | |